AMT™
Automated Machine Technologies, Inc.
---
Keywords:
Automated Machine Technologies, Inc. is a manufacturer of aseptic liquid filling and capping machines, plugging, crimping, sterile vial stoppering monoblock machine, e-cigarettes automatic cartomizer filling machine, inline liquid filler, plugger, crimper capper machinery and equipment, sterile vial monoblocks, fillers, pluggers and cappers for pharmaceutical, cosmetic and food packaging. e-Cigarettes cartomizers filling VG PG glycol solutions, Micro-Liter dispensing filling and verification of 96-well and 384-well Microplate Dispenser with digitally compensated servo controlled peristaltic pump and automatic verification, P&A Labeling.

---
AMT™ MicroPlate Dispenser
Click images for short video (12MB)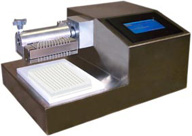 DOWNLOADS:

MicroLiter Brochure/Dimensions PDF (0.4MB)
Cartridge Selection (0.4MB)
AMT™ Microliter Dispenser
Sterile Non-contact filling and optional aspiration of 96-well and 384-well Microplates with Verification.

The AMT™ Microliter Servo Peristaltic Dispenser utilizes EqualFlow™ - innovative digital compensation (US Patent Number 6,393,338) allowing unmatched fill precision at higher flow rates. Long-term tubing wear is also digitally compensated.

One unit is capable of filling all standard microplates and microtubes in semi and fully automated productions. Depending upon fill volume, plates can be filled "on-fly" (while plate is continuously moving under the nozzles) in less than 10 seconds per plate. AMT™ MicroLiter Dispenser is ideal for high throughput tasks such as the dispensing of bacterial growth media and cell culture media. With a small footprint, the unit can be sited in a laminar flow hood and can be used with microtubes and microplates of differing depths, including deep-well blocks.

Non-Contact filling from 1µL to 500 µL is performed with unmatched precision due to the digital compensation and precisely controlled coherent jet. Only one continuous tubing per channel contacts the product. There are no fittings or seals, thus the system is ideal for sterile operations. Easily detachable tubing cartridges are autoclavable or disposable. AMT™ MicroLiter can dispense up to 16 different liquids simultaneously.

Reversible flow and diving nozzles are provided for aspiration.

With a smooth stainless steel enclosure, AMT™ MicroLiter Dispenser is the most robust in its class. The unit is compact in size, easy to use and maintain, with features that prevent cross contamination and save on reagents. For higher throughput needs dispenser can be easily integrated to robotic setups.

AMT™ MicroLiter Dispenser parameters and detailed description:


| | | | |
| --- | --- | --- | --- |
| Microplate: | 96-well | 384-well | 1536-well |
| Tubing ID: | 0.79mm or 0.64mm | 0.5mm or 0.38mm | 0.20mm |
| Number of Channels: | 8 or 12 | 12 or 16 | 12 or 16 |
| Fill Volume Range: | 40µL-500µL | 5µL-100µL | 1.0µL-20µL |
| Fill Volume Resolution: | 0.1µL | 0.1µL | 0.1µL |
| Typical Fill Volume Tolerance: | 1.75% | 2.5% | 4% |
| Fill Time per Plate : | 2sec @64µL | 3sec @16µL | 6sec @1µL |
| Changeover Time: | Less than 1 minute | Less than 1 minute | Less than 1 minute |
DIMENSIONS: Width=510 mm, Depth=356 mm, Height=230 mm, WEIGHT: 100 Newtons
Product Contact Parts: Only one piece of micro tubing with nozzle, per channel, is in contact with product, and can be sterilized or disposable. Sets of linked tubing are easily exchangeable with quick disconnect.
Aspiration capabilities with reversible flow and diving nozzles.
System can be configured from 1 up to 16 channels, and can also precisely dispense higher volumes at a constant flow rate.
X-Y table has an anti-backlash system, and can be programmed for full indexing range and for any number of channels, within 0.05 mm position resolution. The offset position for each different microplate is locally programmable from a touch screen or remote computer.
Built-in Touch Screen for full autonomy and user friendly configuration. Interface for communication with optional robot, plate stacker and unstacker. PLC and PC ports with full software support.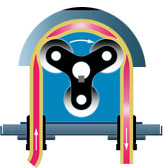 AMT™ MICRO PUMP
The servo controlled, digitally compensated AMT™ Peristaltic Micro Pump is freed from the alleged precision shortcomings of peristaltic pumps by digitizing and compensating the flow characteristic (US Patent Number 6,393,338). As disclosed in the Patent, the servo-driver varies the rotary stroke accordingly based on a digitized flow characteristic. The long term tubing wear is also computed for automatic compensation. This technique allows for achieving the highest dispensing precision, while maintaining all the benefits associated with using rotary peristaltic pumps, especially unlimited programmable fill volumes and sterile operation with minimal maintenance. The benefits of using AMT™ Digitally Compensated Peristaltic Pumps greatly outweigh those of ceramic piston or syringe pumps.

The pump will accept all favorable sizes of peristaltic tubing to optimize production speeds while maintaining the highest dispensing precision for all standard microplates, 96-well and 384-well. The inside diameter of the peristaltic tubing used for filling 1536 wells is typically 0.008" or 0.2 mm, and will require approximately a 32 mm radial stroke of the servo driver to dispense 1 microliter volume. Dispensing 0.1 microliter would require a proportionally smaller stroke of 3.2 mm. Such resolutions are easily achievable from servo-motor.

Without jet energy, the fluid would typically form a bubble at the tip of the dispensing orifice due to the fluid's surface tension. The bubble would grow with each dispensing cycle until approximately 20 fill cycles, at which time the accumulated weight of the bubble will eventually exceed the molecular forces and break into a falling drop.

JET
By introducing vibrating energy, the fluid molecules resonate and consequently break the surface tension of the bubble. The vibrating energy accelerates the small particles of fluid and causes them to shoot from the dispensing orifice with each dispensing cycle. The size of the resonating molecules is inversely proportional to the frequency of the vibrations.

There are attempts to adopt well perfected ink-jet technology to dispense small volumes in medical applications. Microplates up to 1536-well density require dispensing of microliter fill volumes. Ink-jet technology utilizes ultrasonic energy and it is adequate for dispensing smaller volumes in the range of picoliters and one thousand times larger nanoliters. Ink-jet technology takes too much time to cumulate nanoliters into microliter fills. Microliters, at one thousand times larger volumes than nanoliters, require one thousand times lower frequencies to resonate with proportionally larger particles.

AMT™ has developed a sterile Jet Generator to produce coherent waves at lower frequencies. Unlike other jet systems, the resonating energy is passed through the walls of peristaltic tubing, thus contamination risk from the jet source is totally eliminated without the need for any additional sterilizing processes or disposing of additional parts. The Jet Generator is permanently attached to the output side of the AMT™ Peristaltic Pump, forming one integral device.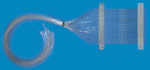 DISPOSABLE & AUTOCLAVABLE PRODUCT CONTACT PARTS
Tubing and nozzles are the only product contact parts. Sets of 4, 8, 12, or 16 linked tubing come as complete cartridges with attached nozzles, eliminating the need to have them serviced and calibrated. Fixed alignment assures highest nozzle-to-nozzle precision. The complete tubing set snaps into the dispensing apparatus. Changeover to new production takes only a few seconds. Cartridges come pre-sterilized and individually packaged; they are disposable or can be autoclaved multiple times. Selection of the standard cartridge for the particular application is based on the compromise between: 1) Fill Precision 2) Dispensing Speeds 3) Longevity of the wearing parts. CARTRIDGE SELECTION (0.4MB)

VERIFICATION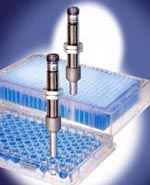 Optional Calibrated Verification Ultrasonic System provides Real-Time Quality Control during production.

AUTOMATED PRODUCTION
The AMT™ MicroLiter Dispenser can work in semi-automatic mode with manual plate handling, or can be configured for fully automatic production with an optional robot, plate stacker and unstacker via a PLC compatible control port. PC interface is provided and can be used for central control and report generating. Communication is configured from a touch screen via user-friendly software.


Contact us for peristaltic liquid filling and capping, stoppering, P&A labeling production machines:

Office@AMTLiquidFilling.com (919) 361 0121




MicroPlate Dispenser
---
Copyright © 2008
Automated Machine Technologies, Inc.
10404 Chapel Hill Road, Unit 100, PO Box 1186, Morrisville NC 27560-1186
Email: Office@AMTLiquidFilling.com Phone: (919) 361 0121 FAX: (919) 481 2120

---