AMT™
Automated Machine Technologies, Inc.
---
Keywords:
Automated Machine Technologies, Inc. is a manufacturer of aseptic liquid filling and capping machines, plugging, crimping, sterile vial stoppering monoblock machine, e-cigarettes automatic cartomizer filling machine, inline liquid filler, plugger, crimper capper machinery and equipment, sterile vial monoblocks, fillers, pluggers and cappers for pharmaceutical, cosmetic and food packaging. e-Cigarettes cartomizers filling VG PG glycol solutions, Micro-Liter dispensing filling and verification of 96-well and 384-well Microplate Dispenser with digitally compensated servo controlled peristaltic pump and automatic verification, P&A Labeling.

---









AMT™ Crimp Sealing Machines

DOWNLOADS:

VIDEO-1: High Speed AMT™ Automatic Crimp Sealing Machine (7MB mpg)

VIDEO-2: AMT™ Semi-Automatic Crimping Machine (4MB mpg)

Crimping Machines Brochure (0.8MB PDF)

Semi-Automatic Crimp Sealing
Click for full video (4MB)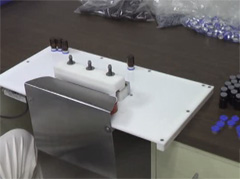 Semi-Automatic Crimp Sealing
Standalone Tabletop Model
Stainless steel, Teflon coated hard anodized aluminum and Delrin™ construction
Non-shearing crimp sealing, clean operating; no crimping rollers are used
Operator manually places crimp seal over the stoppered vial and pushes vial into
the input side of the Crimp Sealing Machine
Vial is automatically transferred through Crimp Sealing Machine via motor driven
urethane belt and is simultaneously crimped by non-shearing blade; urethane
belt minimizes particulate matter generation
Crimped vials exit output side of Crimp Sealing Machine and accumulate on table
Automatic Crimp Sealing Machines
Click for full video (7MB)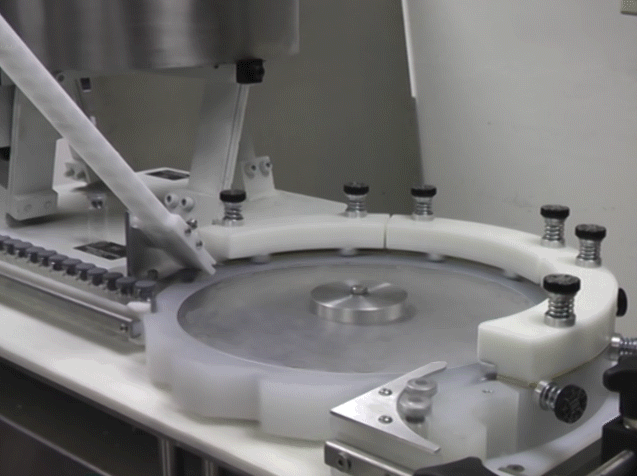 Fully Automatic Crimp Sealing
Up to 300 vial crimps per minute production speeds
Stainless steel external construction
Stainless steel vibratory feeder
Tooling with quick disconnect for swift changeover



AMT™ high speed, clean operating, non-sheering, crimp sealing machine along with
servo peristaltic liquid filling, stoppering, servo torqueing screw capping and P&A
labeling completes the total high speed liquid filling and vial closing packaging system.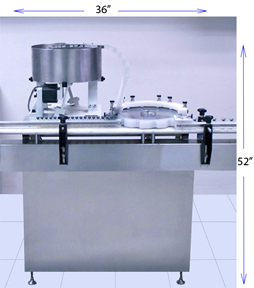 Ask us about our Model 500CT, a non destructive and objective device for testing the strenght of a crimped seal.



Crimp seal tester
Click image for video (5MB)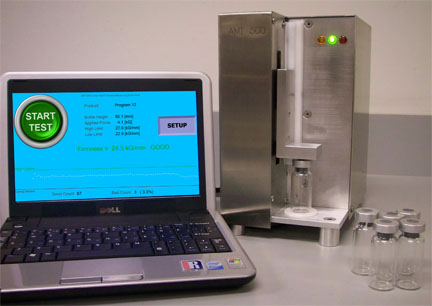 Contact us for peristaltic liquid filling and capping, stoppering, P&A labeling production machines:

Office@AMTLiquidFilling.com (919) 361 0121

Crimp Sealing Monoblock
Click animation for full video (30MB)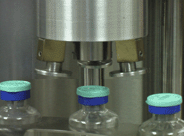 Crimp Sealing Machines - Inline & Rotary
---
Copyright © 2008
Automated Machine Technologies, Inc.
10404 Chapel Hill Road, Unit 100, PO Box 1186, Morrisville NC 27560-1186
Email: Office@AMTLiquidFilling.com Phone: (919) 361 0121 FAX: (919) 481 2120

---