AMT™
Automated Machine Technologies, Inc.
---
Keywords:
Automated Machine Technologies, Inc. is a manufacturer of aseptic liquid filling and capping machines, plugging, crimping, sterile vial stoppering monoblock machine, e-cigarettes automatic cartomizer filling machine, inline liquid filler, plugger, crimper capper machinery and equipment, sterile vial monoblocks, fillers, pluggers and cappers for pharmaceutical, cosmetic and food packaging. e-Cigarettes cartomizers filling VG PG glycol solutions, Micro-Liter dispensing filling and verification of 96-well and 384-well Microplate Dispenser with digitally compensated servo controlled peristaltic pump and automatic verification, P&A Labeling.

---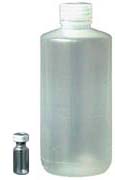 DOWNLOAD Inline Filler Brochure PDF (0.3MB)
ServoChange™ from 0.1 ml to 1000 ml in less than 10 minutes!

---


Precise Sterile Liquid Filling Machines
with Easy Changeover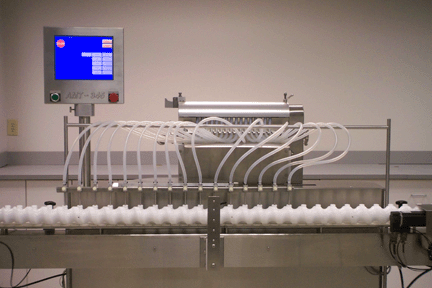 High Speed Servo Walking Beam Filler

AMT™ "Walking Beam" system will produce over 400 bottles per minute for up to 100 ml fills, and proportionally slower for up to 1 liter fills. System accepts various sizes and shapes of containers with rapid changeover. Fill tolerance can be better than 1% depending upon product, volumes and production speeds. All movements: nozzles bottom-up and forward-back, feedscrew synchronization and peristaltic pump are servo programmable for smooth operation. Pump will accept peristaltic tubing from 1/16" ID to 3/8" ID for range of fill volumes from a fraction of 1ml to a liter and will allow for optimal compromise between fill volume, production speed and fill tolerance. Typically 8 to 16 nozzles are used, pump will accept up to 20 nozzles for higher production speeds. Pump is oriented for easy air purging, convenient replacement of product contact parts, and is ideal for disposable technology.

Click for Inline Filler video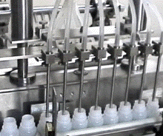 High Performance Inline Liquid Filling Applications

Digitally compensated AMT™ Inline Liquid Fillers are ideal for precise and sterile operations, especially where frequent immediate changeover to many different products is required. Fill volumes from a fraction of 1 ml up to 1 liter and productions up to 120 bottles per minute are performed. From 1 up to 40 nozzles can be configured depending on the application. The AMT™ Inline Liquid Filling Machine will accept containers of various shapes and sizes with a minimal number of change parts. Fill precision can be better than 0.2% depending on products, production speeds and pump used. Immediate changeover to hundreds of different products is achieved via programmable servo drivers. Production parameters and records are kept in the computer for immediate changeover and easy validation and are available with a touch of the screen. Components such as motors and belts are isolated below the fill area, providing assurance against particulate contamination. Filler can be equipped with its own conveyor or it can operate from the customer's conveyor.
AMT™ Servo Peristaltic Pump
Peristaltic pump principle
Click to Zoom-In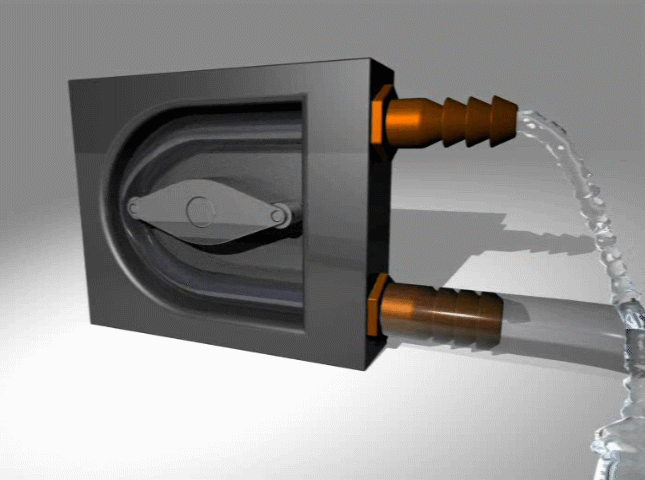 The servo controlled, digitally compensated AMT Peristaltic Pump is freed from the alleged precision shortcomings of peristaltic pumps by digitizing and compensating the flow characteristic (EqualFlow™, US Patent Number 6,393,338). As disclosed in the Patent, the servo-driver varies the rotary stroke accordingly based on a digitized flow characteristic. Long term tubing wear is also computed for automatic compensation. This technique allows for achieving the highest dispensing precision, while maintaining all the benefits associated with using rotary peristaltic pumps, especially unlimited programmable fill volumes and sterile operation with minimal maintenance. The benefits of using AMT Digitally Compensated Peristaltic Pumps greatly outweigh those of ceramic piston or syringe pumps.

Better than 0.5% fill precision is achievable. Volume calibration is immediate from the touch screen and can be performed without stopping production. AMT servo pumps have programmable speed and acceleration for optimum performance. Drip-less operation is obtained via a Suck Back system. Reversible flow and jogging are provided for system purging and priming. The pumps are suitable for CIP (Cleaning In Place). Tubing and bottom up nozzles are the only fluid contact parts. They can be disposable or disassembled in a few minutes for sterilization and reassembled with reduced risk for contamination.
From fraction of 1ml to 1 liter programmable fill volumes
Fill accuracy can be better than 0.2% based on product and speed
Up to 120 fills per minute production
100 programs for immediate changeover
Suck back system for drip-less production
Jog forward and reverse functions for priming and purging
Click for full video (13MB)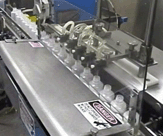 AMT™ Servo Piston Pump
The servo controller performs S-curve motion for smooth dispensing. Volume calibration is immediate from the touch screen and can be performed without stopping production. Jog forward and reverse functions are for priming and purging. Optional SuckBack is provided by intake valve. Parameters like volume, acceleration and speed are programmable. A number of standard, disposable and sanitary piston pumps can be used with the AMT™ system. DUS filling unit features a rolling diaphragm that isolates the piston head from the cylinder wall. Vacuum assistance applied to the underside of the diaphragm maintains the proper convulsion. Three types of valves are available: ball check, duck bill or pinch valve.

From 1mm to 100cm programmable strokes
From fraction of 1ml to 1 liter programmable fill volumes
Fill accuracy can be better than 0.25% based on product and speed
Up to 180 fills per minute production
100 programs for immediate changeover to different products and pistons
Suck back system for drip-less production
Jog forward and reverse functions for priming and purging
On-The-Fly Oil Filling
Click for Video (4MB)



Bottom Up Nozzles

From 1 up to 40 nozzles are servo-programmable for top and bottom positions, acceleration, and speed to assure minimal product foaming and splashing. Precision nozzle to nozzle adjustment system is provided. Drip-less operation is obtained via the SuckBack system.


Linear Bottle Transfer

One feed screw for bottle indexing can work with a wide range of bottle sizes. Feed Screws are equipped with quick disconnects for changeover to a new range of bottle sizes. Sensors for bottle tracking are incorporated. Feed screws have servo-programmable acceleration for optimum performance. Alternative simplified bottle escapement system with bottle counters is also available.


Servo Changeover

Click for Filling & Sampling video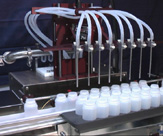 Inline Filler is programmable via three-axis servo system for different products. Parameters and functions are recorded in the computer under preprogrammed production profiles. A desired product profile number is called with a touch of the screen for new production or editing. Nozzles top and bottom positions, fill volumes, calibration, speeds, accelerations and timing are programmed for optimal production.


(Acrobat Reader needed.)
If you wish to download free Acrobat Reader, click Adobe logo:

Contact us for peristaltic liquid filling and capping, stoppering, P&A labeling production machines:

Office@AMTLiquidFilling.com (919) 361 0121



Liquid Filling Machines - Servo Peristaltic Inline
---
Copyright © 2008
Automated Machine Technologies, Inc.
10404 Chapel Hill Road, Unit 100, PO Box 1186, Morrisville NC 27560-1186
Email: Office@AMTLiquidFilling.com Phone: (919) 361 0121 FAX: (919) 481 2120

---