AMT™
Automated Machine Technologies, Inc.
---
Keywords:
Automated Machine Technologies, Inc. is a manufacturer of aseptic liquid filling and capping machines, plugging, crimping, sterile vial stoppering monoblock machine, e-cigarettes automatic cartomizer filling machine, inline liquid filler, plugger, crimper capper machinery and equipment, sterile vial monoblocks, fillers, pluggers and cappers for pharmaceutical, cosmetic and food packaging. e-Cigarettes cartomizers filling VG PG glycol solutions, Micro-Liter dispensing filling and verification of 96-well and 384-well Microplate Dispenser with digitally compensated servo controlled peristaltic pump and automatic verification, P&A Labeling.

---



Select Product

AMT™ Print & Apply Labeling Machines
with Programmable Servo Changeover

Click picture for full video (9MB)



All these bottles were labeled by one AMT™ Print & Apply Model 313
DOWNLOADS:
Click picture for full video (9MB)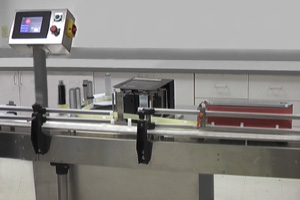 AMT™ Print & Apply Labeling Machine video (9MB with Audio)

P&A Labeling Machines Brochure/Dimensions (0.3MB PDF)

The sustained performance and touch of the screen changeover of the AMT™ P&A (Print & Apply) Labeling Machine is achieved via 5 computer-programmable servo drives.

The label dispensing, wrapper belt, and conveyor belt speeds are all servo linked and programmable for over one hundred products.

The label flag projection and label vertical position are also servo-programmable. The "Loose Loop" is eliminated and hardware is greatly simplified for low maintenance and high reliability.

Diagnostic messages such as "Low-Label", "Out-of-Label" or "Low-Ribbon" are clearly communicated via touch screen.

Automatic changeover eliminates cumbersome manual tuning, making the AMT™ P&A Labeling Machine the most consistent and user-friendly in the industry.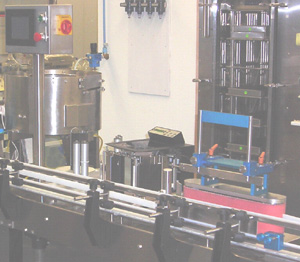 Servo Programmable Changeover
Heavy duty Stainless Steel Construction
Powered Rewinder
Touch Screen with User-Friendly Menus and Programmable Presets
Zebra, Sato, Avery or Datamax Print Engines
Resolution: 300 dots per inch (DPI)
Maximum web width: 4.5"
Minimum web width: 1"
Maximum label size: 4.5" width x 14" length
Maximum print area: 4.1" width x 14" length
Product "ON" delay
Diagnostic messages: Out-of-Label, Low-Label and Low-Ribbon
Supply Roll size: 12" Diameter
Core Size: up to 3" Diameter
Dimensions: 62"H x 24"D x 36"L (+16"L - Wrapper)
Speeds up to 480 inches per minute
Power requirements: 120 VAC, 5A.

New AMT™ P&A labaling machine along with AMT™ vial filling stoppering and capping machines completes the total liquid filling and vial closing packaging system.


Contact us for peristaltic liquid filling and capping, stoppering, P&A labeling production machines:

Office@AMTLiquidFilling.com (919) 361 0121



AMT™ Print & Apply Labeling Machines
---
Copyright © 2008
Automated Machine Technologies, Inc.
10404 Chapel Hill Road, Unit 100, PO Box 1186, Morrisville NC 27560-1186
Email: Office@AMTLiquidFilling.com Phone: (919) 361 0121 FAX: (919) 481 2120

---