AMT™
Automated Machine Technologies, Inc.
---
Keywords:
Automated Machine Technologies, Inc. is a manufacturer of aseptic liquid filling and capping machines, plugging, crimping, sterile vial stoppering monoblock machine, e-cigarettes automatic cartomizer filling machine, inline liquid filler, plugger, crimper capper machinery and equipment, sterile vial monoblocks, fillers, pluggers and cappers for pharmaceutical, cosmetic and food packaging. e-Cigarettes cartomizers filling VG PG glycol solutions, Micro-Liter dispensing filling and verification of 96-well and 384-well Microplate Dispenser with digitally compensated servo controlled peristaltic pump and automatic verification, P&A Labeling.

---





AMT™ Chuck Capping Machines

Click animation for Capping Monoblock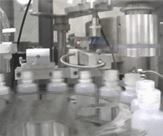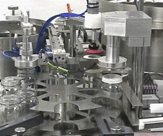 _
Fully Automatic Screw Capping
Click image for video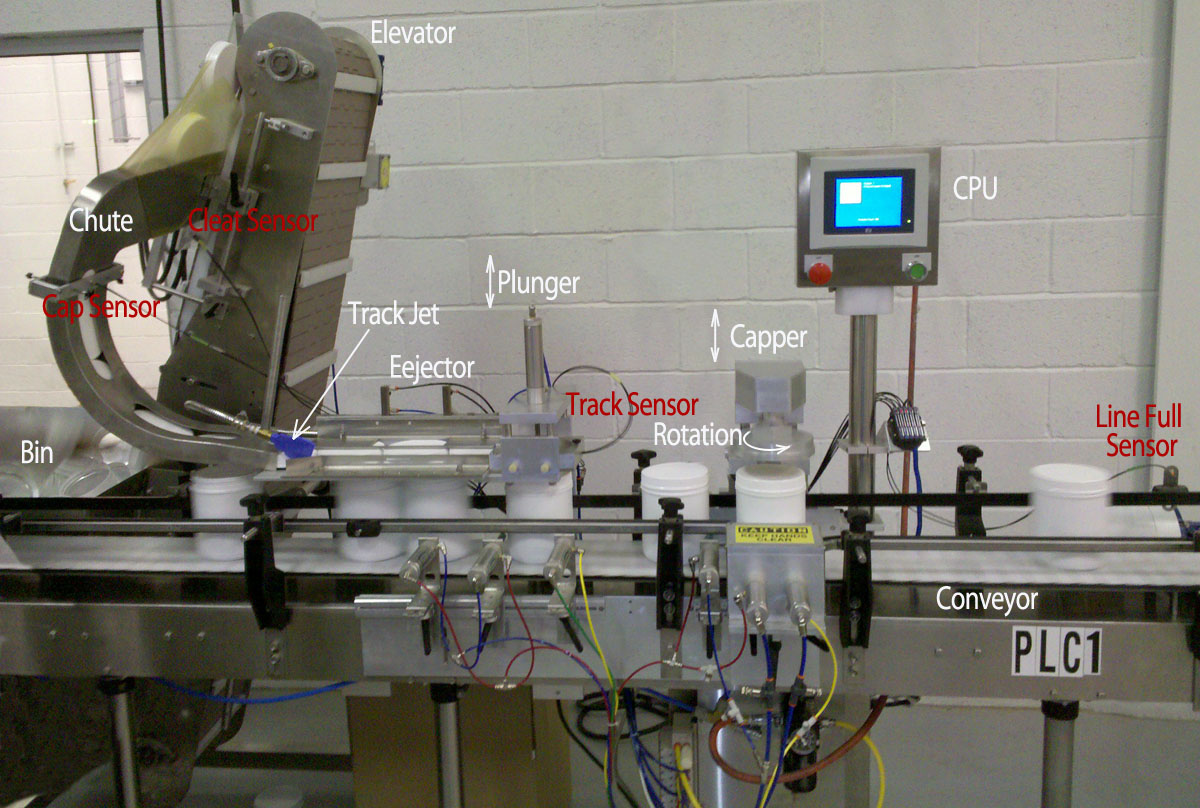 ServoTorque™ - patented servo capping along with flexible positive gripping system brings unparalleled torque precision and consistency in chuck screw capping. (US Patent Number 6,804,929).
Construction: 304 stainless steel external construction
Some parts are made out of hard coat anodized aluminum
Programmable vibratory feeder table position
Elevator cap feeder for high capacity and silent operations
Servo programmable automatic change over to different bottle heights
Touch screen with user-friendly menus
Chuck capping head provides computer-servo programmable torque adjustment with 12-bit of D/A resolution for each of the 100 available individual programs. Inflatable gripper with a vacuum escape system provides fast and positive cap holding. All necessary tooling is easily exchangeable for different caps, per submitted samples. 24" diameter 304 stainless steel vibratory feeder bowl with necessary tooling is included. Vibratory bowl will orient and supply screw caps to the machine for fully automated screw capping; bowl position is motorized for bottle heights ranging up to 8.0". Cap placing plunger tooling is easily exchangeable for all different caps, per submitted samples. Up to 40 parts per minute production speeds are achievable depending upon product.

Silent and high capacity elevator cap feeder may substitute the vibratory feeder depending upon the application.

The Inline Capping Machine is equipped with a bottle gate system. Precise bottle position needed for cap placement/pre-screwing and cap torqueing is obtained by movable V-blocks, which also grip the bottle and prevent it from spinning.

The Capping Monoblock machines utilize a servo controlled "Star-wheel" type bottle indexing system. Star-wheels have quick disconnect for rapid changeover.

Easy changeover is obtained by quick replacement of capping chuck and selectors inside the vibratory bowl for different caps. The bottle height adjustment is motorized and available from the touch screen. Parameters such as timing and torque rate, for all products, are preprogrammed from the touch screen and stored for immediate calling as a Program Number.




Click animation for Inline Screw Capping Machine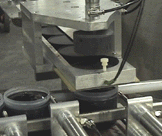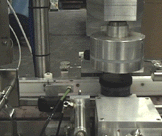 _


Contact us for peristaltic liquid filling and capping, stoppering, P&A labeling production machines:

Office@AMTLiquidFilling.com (919) 361 0121



Screw Capping Machines - Inline & Rotary
---
Copyright © 2008
Automated Machine Technologies, Inc.
10404 Chapel Hill Road, Unit 100, PO Box 1186, Morrisville NC 27560-1186
Email: Office@AMTLiquidFilling.com Phone: (919) 361 0121 FAX: (919) 481 2120

---